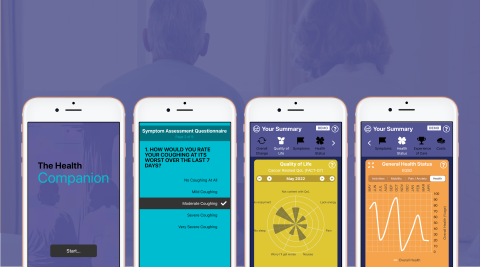 Most of you will now be aware of the Health Companion, a new national service to support you and your patients in the management of lung cancer.
The Health Companion is designed to collect real-world data by enabling patients to submit information regarding their quality of life, general health, symptoms and experience of care. The data collected can then be shared with healthcare professionals to enhance nurse-patient communications and empower patients to gain a better understanding of the impact the disease is having on their lives. Our aim overtime is to use the aggregated, anonymised data from the national network of patients to help inform better healthcare decision-making and to provide evidence for better treatments. Watch a short video.
We're delighted that the service has been extremely well received by patients and feedback has been positive; "It (the Health Companion) went down extremely well with our audience. Such a simple idea, and such a valuable tool to be used by both patients and hospitals to improve patient care." Steve Squibb, Operations Manager, HASAG – asbestos disease support. The Health Companion has received endorsement from other advocacy groups including EGFR+ and ALK+.
National Roll Out
The Health Companion has been given NHS Trust Approval from many across the country – but we need your help to get all of them onboard. Fill out this short form or contact HCManager@lcnuk.org to find out more and get your hospital involved.
Ready to go
We run short training sessions for you to learn how to enrol patients and ask any questions you may have. Please email HCManager@lcnuk.org
Recruiting patients
Thank you to those of you already enrolling patients, please continue promoting and recruiting onto the Health Companion. We hope over the coming months you will find the information provided through the reports useful. In the meantime, a few things to remember as you enrol patients:
The patient email and telephone number are included and legible.
Your email is included and legible.
You have checked the patient NHS number.
All assessment items have been completed (or that you've ticked Don't Know / Unknown etc.)
When you send us back your enrolled patients in the pre-paid envelopes don't forget to email HCmanager@lcnuk.org with subject 'ENROLLED' and list the name(s) of the patient(s). This is ESSENTIAL to ensure no forms go missing without us knowing.
For more information visit the Heath Companion website.