Lung cancer nurse specialists are highly skilled professionals, working at the heart of the MDT providing high quality, safety critical and patient centred care for people with a diagnosis of lung cancer or mesothelioma.
Working at the front line of cancer care, LCNSs manage and deliver complex and personalised care to patients from the point of diagnosis throughout their cancer journey. We provide information and support for patients and carers and help them to make informed treatment choices and supportive care in the management of symptoms and side effects.
In the relationship we build and nurture with patients we often uncover fears and concerns not identified or addressed by clinicians and we are able to intervene early and provide a more holistic approach to patient care.
We make critical contributions to improving patient safety, outcomes and experience. We also use our specialist knowledge and skills to lead, redesign and improve lung cancer services, all the time expanding our understanding of lung cancer, its treatment and care through research and audit.
With 130 new cases of lung cancer being diagnosed every day and people living with lung cancer longer the need for LCNSs is only increasing.
Our goals
To support nurses who are considering their professional ambitions and options make becoming a LCNS a career goal
To support LCNSs already in post to be able to learn, develop and flourish professionally throughout their career
To help employers to recognise and value the qualifications; clinical, research and leadership skills and to be able to recruit, reward and promote their LCNS staff accordingly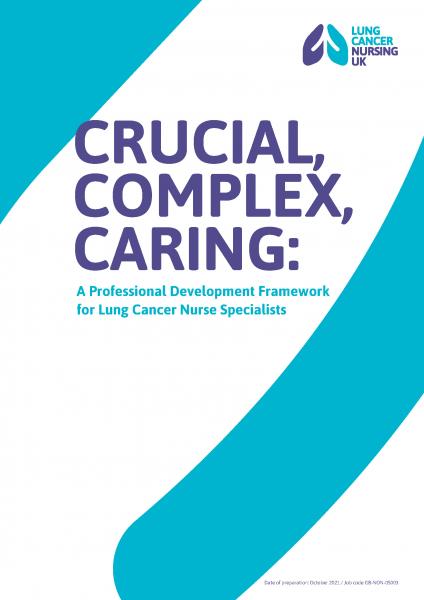 The LCNUK Professional Development Framework is more than a list of competencies required to provide safe and personalised care. It also considers the capabilities of professional practice required to provide the highly complex care that people with lung cancer need, and the career possibilities and routes that LCNs can take from entry to advancement.
The framework includes real examples from members of their own career pathway. The Framework has been designed by LCNUK to align with and support both general nursing frameworks and cancer-specific nursing frameworks. Many of the core skills required by LCNSs are shared with clinical nurse specialists working with people with other cancers and/or respiratory conditions. However, there are specific skills, capabilities and behaviours that clinical nurse specialists will require when supporting people with lung cancer.
The framework is referenced, to signpost evidence and sources of information that readers may find helpful. As a lung-specific specialist nursing framework, it is designed to be read in conjunction with the following: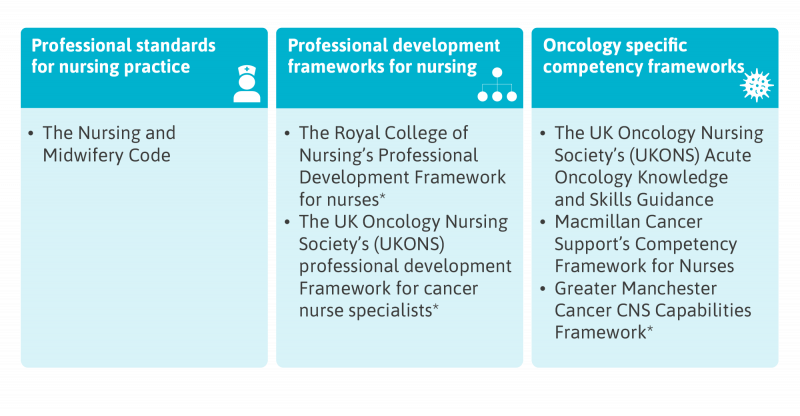 | | |
| --- | --- |
| | The role of the clinical nurse specialist is not new. And indeed, more than two decades of literature provide a wealth of evidence of the multiple ways in which CNSs improve holistic cancer care, in terms of patient outcomes and experience, service delivery and system efficiency. There is guidance from the Department of Health and Macmillan Cancer Support that summarise many (but not all) of the key contributions made by CNSs to cancer care across the pathway. |
The CNS role constantly evolves as medicine advances and patients can benefit from new tests, treatments and types of supportive care. This is especially true in lung cancer with rapid recent developments and new treatments coming to market. This means that, as LCNSs, we are continuing to learn, develop professionally, adapt our practice, and communicate effectively with others - both our patients, their carers and our colleagues.

The critical role of the LCNS at different points of the patient pathway has been previously summarised by LCNUK and Roy Castle Lung Cancer Foundation as set out in this chart :
Access to a LCNS is critical to patient safety outcomes and experience. The NICE Quality Standard for lung cancer, the National Optimal Lung Cancer Pathway and the National Lung Cancer Audit standards all expressly recognise the importance of patients having access to LCNS support from the earliest possible stage, "adults with suspected, or confirmed, lung cancer should have access to a named lung cancer clinical nurse specialist". Research shows that LCNSs play a pivotal role in delivering optimal patient care by:
Coordinating complex care in line with the NOLCP, avoiding delays and ensuring the right care is given at the right time in the right place
Building relationships and using advanced communication skills and specialised knowledge to provide accurate information and advice
Undertaking specialist, holistic patient assessment to support the treatment and management of lung cancer and its symptoms
Providing emotional support and management of expectations for patients and relatives, as well as themselves and the wider healthcare community
Ensuring the effective utilisation of resources
This framework was developed in a collaboration between LCNUK and MSD, who funded a policy agency (Incisive Health) to provide secretariat support in researching and compiling this framework. LCNUK retained editorial independence of the framework content. LCNUK wish to thank James Hargrave (MSD), Sarah Winstone (Incisive Health) and David Hall (Incisive Health) for all their support during the development and implementation of this project.