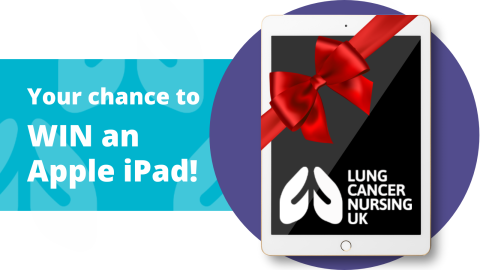 The LCNUK good practice guide provides a user-friendly, informative guide for all lung cancer nurses and their colleagues.
To grow and develop this helpful resource, we invite our members to submit your examples of good practice. All eligible submissions will be entered into our competition and the author of the best example will be awarded an iPad.
As part of your submission, you will need to tell us the following:
What was the problem you identified?
What intervention did you make to change the problem?
How has this changed your practice?
The resource / cost implications
To enter the competition, submit your good practice example via our online form by no later than 5pm on 31st December 2023 (deadline extended).
Terms and conditions
You must be a member of LCNUK to enter the competition - if you are unsure if you are a member, please contact info@lcnuk.org.
Your submission must be a example of good practice that is new to the LCNUK good practice guide - i.e. not work that is already featured in the guide.
There is no limit on the number of submissions you can make.
Late submissions will not be entered into the competition.
The submissions will be judged by a panel made up of members of the LCNUK Committee - one example of best practice will be chosen as the winner and the author will be awarded a free iPad.
If you have any queries about the competition or your submission, please contact info@lcnuk.org.