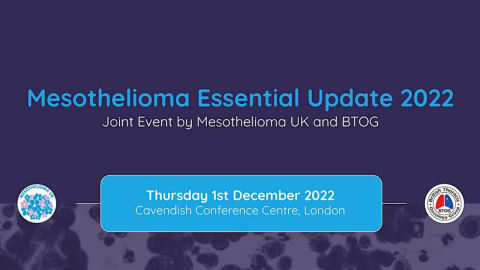 The Mesothelioma Essential Update 2022 is joint event by Mesothelioma UK and BTOG for thoracic oncology health care professionals.
Cavendish Conference Centre, 22 Duchess Mews, London, W1G 9DT.
This Essential Update will cover the current information on mesothelioma including Equity and Excellence in the NHS, the Genetics and Pathology, Standard Treatment for Pleural Mesothelioma, Supporting Patients, Radiotherapy and Pleural Services. Each session will include a Panel with experts and an opportunity for questions and discussion. This educational meeting is free of charge for health care professionals.
Following close of the formal meeting there will be an Informal Networking Reception - a chance to catch-up with colleagues.
BTOG will apply for CPD credits from the Federation of the Royal Colleges of Physicians of the United Kingdom.