2024 Annual Conference, 20th - 21st June, Glasgow
Lorraine Creech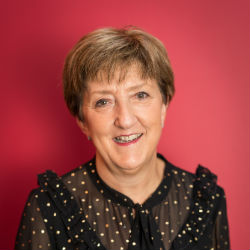 Lorraine is a Mesothelioma UK Clinical Nurse Specialist Team Leader. Lorraine completed her training in Manchester and went on to hold posts in general medicine, community and hospice care. She became a Macmillan Palliative Care Nurse at East Cheshire NHS Trust and developed the Macmillan Lung Cancer Nursing Service in 1999. In 2007 she was appointed as the Macmillan Lung Cancer Lead Clinician for the Trust. At that time only two nurses in the UK held that position. She was also the Non-Medical Prescribing Lead for the Trust. Lorraine has a Masters in Medical Ethics of Cancer and Palliative Care and MSc level qualifications in clinical examination and diagnostics. She has undertaken the National Cancer Leadership Programme.
Lorraine was the first nurse member of the British Thoracic Society Lung Cancer Working Party and has been a committee member of the National Lung Cancer Forum for Nurses. Currently she is the Chair of the Board of Trustees for the Forum and was received the first Lifetime Achievement from the Forum in 2016. She is a member of the Board of Trustees for the Greater Manchester Asbestos Victims Support Group and a Macmillan Alumni Ambassador. Lorraine presents at local, national and international conferences. She is passionate about improving patient care and nursing leadership.
The conference has been instigated and organised by LCNUK. Sponsors have contributed funding towards this event in return for exhibition space. They have had no input into the agenda or the selection of speakers with the exception of any sponsored symposia which are clearly indicated. View the full list of sponsors.