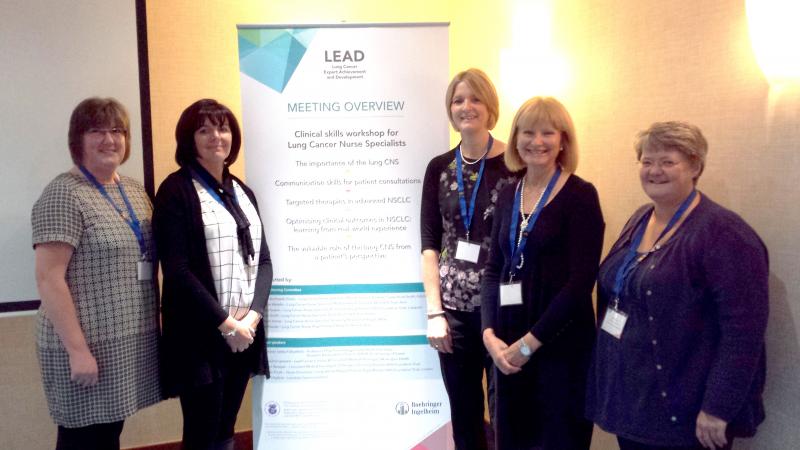 A novel approach to continuing professional development for lung cancer nurse specialists
Lung cancer nurse specialists (LCNS) in the UK possess an immense range of skills and expertise in managing patients though their treatment journey. It is essential that nurses are able to share this knowledge with one another and are given the opportunity to further develop their broad range of skills relevant to their day to day clinical practice
The LEAD programme was designed by a Steering Committee of experienced LCNS to facilitate the sharing of clinical experience and best practice in the management of patients with lung cancer. After identifying four areas which the Steering Committee felt covered a range of key aspects that are important and were of relevance to the LCNS, a National meeting was held. The themes included enhancing communication and presentation skills, understanding the changing landscape in advanced NSCLC as well as demonstrating and articulating the value of the LCNS. In addition we were lucky to have a patient who gave us insight into the value of our role from his perspective. With the help of Professor Lesley Fallowfield and Dr Pauline Leonard we identified and addressed some of the key challenging situations the LCNS comes across.
Fifteen nurses attended the programme over 2 days. Initial feedback has been extremely positive and it is hoped to repeat this again next year. In addition we are hoping to disseminate this education regionally.
Below are some of the comments/feedback from those who attended.
"Excellent Course. Could do with a whole day on communication. Patient speaking was invaluable"
"Thank you. Really fantastic, well-organised event. Patient perspective is invaluable – validates the most simple things we are able to do."
"The 2 days have given some incredible high points and a great oversight of our current position and very supporting."
"Fantastic meeting, relevant and very supportive"
"Really valuable meeting. Enjoyed + + +"
"Fantastic meeting. I really enjoyed meeting other lung CNS' from other regions. Sessions excellent. Great overview and update"
Disclaimer: The LEAD programme was initiated and supported by Boehringer Ingelheim Ltd
---